Mr. Bubble Original Bubble Bath, Classic Bubble Gum Scent, 36 fl oz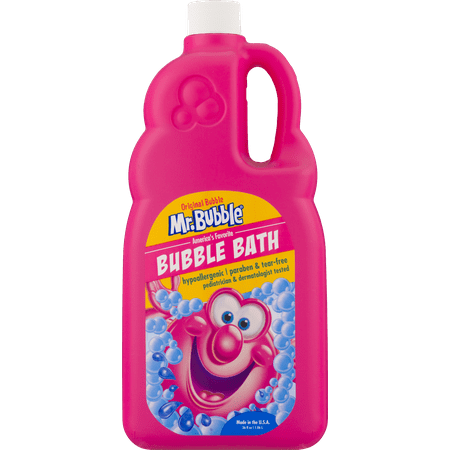 Mr. Bubble Original Bubble Bath, Classic Bubble Gum Scent, 36 Fluid Ounces
Bubble bath washes off thoroughly and leaves skin soft and smooth

Free of parabens, phthalates, and sulfates

Industrial bottle lasts for approximately 18 baths

Tear-free and gentle enough to use on sensitive skin

36-fluid-oz (1,064-mL) bottle

Cruelty free and no animal testing

Pair with kids bath toys and Mr. Bubble Foam Soap for extra bath time fun!

Bringing fun by the tubful for 50 years and counting!
After more than 50 years as America's favorite bath-time buddy, Mr. Bubble continues to be one of the top-selling bubble baths in the United States.
Mr. Bubble was born in 1961 when Harold Schafer and the Gold Seal Company found a way to make bubble bath affordable, moving it from department stores to drug stores. The original Mr. Bubble formula used powdered bubble bath flakes that promised to "Bubble kids clean" and leave no bathtub ring.
Mr. Bubble has so many great ideas to make bath time – or anytime – fun time! With Mr. Bubble, you can create beautiful works of art, go on bubble-filled adventures or even bring him along for arts and crafts. Let your little bubble's imagination shine. What memories will you create?
Download some bubbly fun at: http://www.mrbubble.com/fun/activities/
Let's make a social splash:
https://www.facebook.com/Mr.Bubble
https://twitter.com/mrbubble
https://www.instagram.com/mrbubbleofficial/
https://www.youtube.com/user/MrBubbleBubbleBath
https://www.pinterest.com/mrbubble/